How To Start A Blog?
Dear subscribers this days you will posts on How To Start A Blog? Do not miss it. This is a tutorial guide on how to start your own blog in a very easy manner. I have come across many who had started a blog but was unable to do it properly or even gave up their project altogether. 'How To Start A Blog' will guide you through in a very simple manner. You can have your blog within short time. Here you don't need to be expert in computer. You just need to follow the steps that are recommended here. Those who intend to setup your own blog is to go through it and follow step by step. Make up your mind, get comfy and here we go…..
 Step 1: Choose the right blogging platform (WordPress)
Let's do first thing first. So before you can even start worrying about how your blog will look like, you'll need to choose your blogging platform. There's a lot to choose from. You are able to create a blog with many different blogging platforms, such as WordPress, Tumblr, Blogger and  more… However, I would suggest that you choose WordPress. Even my own blogs and sites are built with WordPress blogging platform. Here's why:
It's FREE for everyone to use (including themes, layouts and add-ons that many other blogging platforms don't provide).
Super easy to set up.
Very secure; WordPress is always updating their software.
It's HIGHLY customizable. There are hundreds of free themes and plugins that add more functionality to your blog.
For a beginner I highly recommend you use WordPress. It is super easy, easy.
Do not create a blog on a free blogging platform
For learning sake you can create a blog on a free blogging platform. But in free blogging you are not allowed to do anything freely as per your wants and choices.  It has other problems like …..
You don't have control over your content

the blogging platform does. They could shut you down any time, and for any reason.

The web address of your blog will be long too long

(like bloggersdesks.wordpress.com) instead of a catchy, branded address you choose like bloggersdesks.com

You're not allowed to advertise.

It makes it much harder to ever make money from blogging.
If I were you, to avoid such stuff I'd start with a self-hosted blog on my own domain from day one. Setting up a blog like this is way easier and less expensive than you think. Let's find a domain name and web hosting provider Now comes the exciting part,i.e how  to set up your own self-hosted blog on your domain. For this you will need two things, i.e. the domain name and webhosting.
Domain name
Choose the domain name of your blog that is catchy and sounds good. This is your personal blog address where people can find you over and over again. For example bloggersdesks's Domain is www.bloggersdes.com. Your new blog domain name will be www.YourBlogName.com. The cost of the domain name is usually $10/year, but it differs from companies to companies. I'll show you how to get one for much cheaper.
Web hosting
Web hosting is a service that allows organizations and individuals to post a website or web page onto the Internet. This will be the home of your blog address and content that's on the blog. Without web hosting, you'll be unable to use your domain. Think of web hosting  as your computer hard drive where you stores all your content of your blog like images, blog posts and so on. Where should you get your domain name and hosting? When it comes to hosting, there are only two things that matter.
Page load speed – The average amount of time (in seconds) it takes your blog to load.
Uptime – 99.9% isn't enough (it's 42 minutes of downtime per month). You should be aiming for 100%.
There are lots of competitions among web hosting providers. They provide very attractive offers. They all offer you a similar service (domain + hosting) with a similar price. You can avail yourself any of these web hosting providers. They offer good service.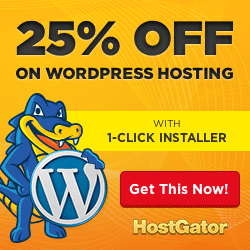 If you have found this article as informative and useful please do not forget to this kind gesture by sharing it with your friends on social media like Facebook, twitter, email, Google+ and so on.
Please follow and like us: